Hot spots still burning at Athens mill | News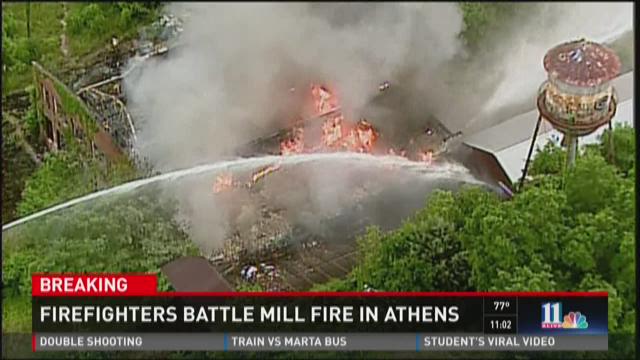 ATHENS, Ga. -- Firefighters are still putting out hot spots at a mill fire that began in Athens Thursday night.
The Athens-Clark County Fire Department responded to the scene on Macon Highway near Puritan Lane in Athens within five minutes of the 6:19 p.m. call.
"We've got a lot of fire back there and there's collapse around it and the structure had already deteriorated a good bit," Fire Chief Jeff Scarbrough said Thursday night. "Because we can't get to the seat of the fire, it's just going to take a long time."
Old Macon Highway was closed at the Clarke County line through the night due to fire, according to Oconee County Sheriff Scott Berry's Twitter.
By Friday afternoon, Assistant Fire Chief Kyle Hendrix said that crews were still working to put out hot spots.
"Once we can deem the fire area is safe to enter, investigators can start their origin investigation," Hendrix said. "We don't anticipate that to be any time soon. It could be early next week."
Officials aren't sure if the old mill where the incident is happening had asbestos in it, so neighbors were told to keep their windows closed.
Runoff water was also threatening to pollute a nearby stream overnight. That's why they plan to keep it all controlled and protect the neighborhood from spreading sparks.