Traumatic recording reveals moments after Athens policemen shot | News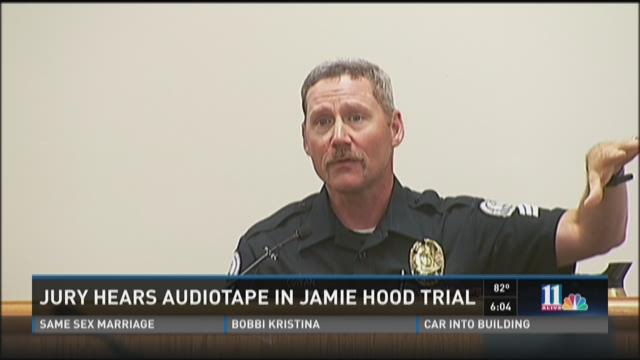 ATHENS, Ga. -- A gut-wrenching voice recording was the focus of a rare Saturday court session in the Jamie Hood shooting trial.
"There was a lot of hollering, 'Shots fired; officers involved'," Sgt. Glenn Cowan said.
Cowan struggled to get through his testimony as he described being the first supervisor to respond to teh shooting of Athens-Clark County Police Officer Tony Howard on March 22, 2011.
"When we got to the back parking lot is when you could see," he said. "You could see Tony Howard lying face down."
Sgt. Cowan said he didn't know it at the time, but he inadvertently activated the voice recorder on his uniform.
It ran for 12 minutes.
On it, jurors could clearly hear Officer Howard moaning with pain.
He survived his injuries but another officer, Buddy Christian, never had a chance.
Sgt. Cowan testified that Christian died nearby responding to Howard's call for help.
Hood is on trial for shooting both men and he's acting as his own defense attorney with a strategy.
During cross-examination, Jamie Hood tried to suggest that Officer Howard did not follow proper protocol when he tried to stop and arrest Hood.
The sequestered jury will get one day off before the trial continues on Monday.
Related stories:
Emotion filled Friday at Jamie Hood murder trial
Jamie Hood makes opening statements in murder trial
Jury seated in trial of accused cop killer Jamie Hood
Ga. Supreme Court lifts Jamie Hood trial suspension
Accused cop killer Jamie Hood talks about case
Jury selection begins for accused cop killer Jamie Hood
Man accused in officer death to be tried in Athens
Psychological exam ordered for Jamie Hood
Jamie Hood removed from court hearing
Former officer remembers arrest of Jamie Hood