Jamie Hood apologizes to carjacking victim | News
ATHENS, Ga. – During testimony on Monday, Jamie Hood apologized to a woman he's accused of carjacking.
Hood is defending himself on 70 charges, including the March 2011 death of Athens-Clarke County Police Officer Elmer "Buddy" Christian. Hood has admitted to shooting Christian and another officer, Tony Howard. Hood claims that police didn't follow proper procedures, and that Howard, who survived the shooting, lured him into a fight.
Also among the charges are counts related to carjackings because of what Hood allegedly did after the shootings.
On Monday, jurors heard from Debra Lumpkin, who was sitting in a car near her friend's house when Hood ran up to her car, pointed a gun at her and got in the passenger side. Hood allegedly told her that he was running from police and ordered her to drive.
A few minutes later, Hood told her to get out of the car and he then got behind the wheel and took off.
When Hood got up to cross-examine Lumpkin, he began with an apology.
"I just want to apologize for any heartache or pain I may have caused you," Hood said. "I just want to let you know that when I see you ma'am. Thank you."
Two days after the shooting, Hood allegedly showed up at the doorstep of Darius Lanier, who was living with his grandmother.
Lanier testified that he'd known Hood's family for years, and was good friends with Hood's younger brother, so when Hood showed up, Lanier offered him clothes and something to eat.
"I told him to come in, get out the rain – he was kind of filthy, looked like he'd been rolling around in the dirt or the mud," Lanier said.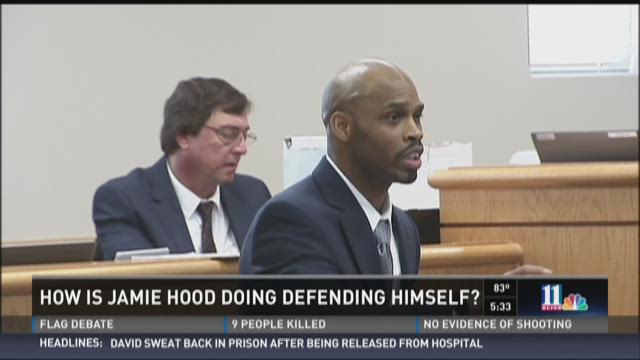 Hood was armed with what Lanier called a large gun. The two talked about what Hood had done. Lanier testified that he tried to convince Hood to turn himself in. But at some point, Lanier said, Hood became agitated and put a gun in Lanier's face.
"He put a gun in my face, he said, 'You trying to set me up?," Lanier said. "He put the gun to my head, made me come to the door, he still had a gun on me – I had to let him know that it was safe to put the gun down."
During his questioning, Hood tried to discredit Lanier, showing a letter he wrote to the district attorney offering his testimony in exchange for dropping charges. Hood said that Lanier asked detectives about reward money.
Also on Monday, Hood's mother, Azalee Hood took the stand. She said she never heard from her son during the four days he was on the run until the last day when he called her and said he would turn himself in.