Jamie Hood takes the stand in his own defense | News
ATHENS, Ga. – Confessed cop killer Jamie Hood took the stand in his own defense on Friday.
Hood, who is defending himself, has admitted to shooting and killing Athens Clarke County Police Officer Elmer "Buddy" Christian and wounding Officer Tony Howard on March 22, 2011. He has argued that he was justified in the shootings because he feared for his life.
On Friday, Hood talked nearly non-stop on the stand for more than 90 minutes about his life and sharing his version of the events the night of the fatal shooting.
Hood said he shot Howard and ran down the street, where he encountered Christian.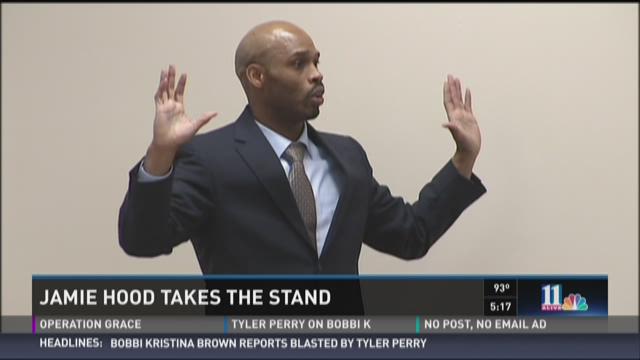 "He stopped his car – at first I thought he was going to run me over," Hood said.
Hood said he saw Christian reach for his gun, but said he never saw him actually grab the firearm. Turning to Christian's widow, Hood said, "Did I see him touch a gun, Mrs. Christian? No I didn't."
Hood said he shot Christian in his patrol car.
Hood said repeatedly that he doesn't consider himself a cop killer, and stressed that he was telling his story because he didn't want young people to end up like himself. He ended his testimony by saying he was mad and sad, and said he felt cheated by the situation.
Cross-examination continued late into Friday afternoon.
PHOTOS | Jamie Hood trial
Jamie Hood calls his brother to the stand
Jamie Hood frustrated by legal proceedings
Jamie Hood attempts to discredit witnesses
Jamie Hood begins his defense in death penalty trial
Jamie Hood to testify in own defense
Jamie Hood: Fatal officer shooting was self-defense
Jurors watch Jamie Hood confess to shooting officers
Witnesses say Jamie Hood held them at gunpoint
Testimony turns to Jamie Hood's surrender