Jamie Hood's mother takes stand in death penalty phase | News
ATHENS, Ga. – Jamie Hood continued to make the case to save his life in the death penalty phase of his trial Thursday.
A jury found Hood guilty of 36 charges, including the shooting death of Athens-Clarke County Elmer "Buddy" Christian. He was also convicted of shooting and injured another officer, Tony Howard, and killing Kenneth Omari Wray.
Hood's mother was among the character witnesses he called to testify on his behalf Thursday.
"If he could help me, if you go to him and you need something, if he got it, he would help you," said Azalee Hood.
Hood also brought the mothers of his nieces and nephew and the parents of kids he's coached as character witnesses.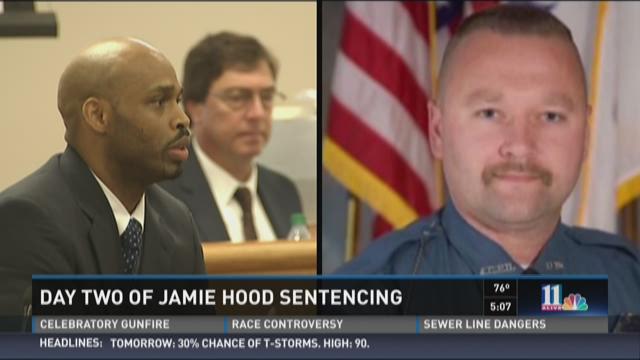 Hood has admitted to shooting the officers, but argued he did so in self-defense.
The prosecution has painted Howard as an impeccable cop. On Thursday, Hood called Howard's stepmother to the stand, who portrayed him in a different light.
"He beat me all in my face and I'd had just had dental surgery, and he beat me all in my head and in my back," she said.
District Attorney Ken Mauldin called that character assassination of a victim and aggressively objected.
"You get shot twice on March 22, 2011, and somehow survive, then all of a sudden the victim has to be attacked -- even by a pro se defendant," Mauldin said. "It's not right."
Hood told the judge that his mother would be his final witness. After closing arguments, the jury will then consider if Hood will receive the death penalty, life in prison without parole and life in prison with the possibility of parole.
PHOTOS | Jamie Hood trial