Police: Alcohol played role in UGA student's nine-story fall | News
ATHENS, Ga. -- A University of Georgia student is alive after reportedly falling from a nine-story dorm window.
According to student accounts, the student went back up to the dorm room at Russell Hall after the fall. 
Students on campus told 11Alive's Matt Pearl that campus was buzzing about the incident and speculating about what exactly happened.
"I've heard people talk about it," said UGA sophomore Ryan Kiss. "The student body's wondering the same thing, kind of, 'What happened? Why?'"
First reports quoted a friend who said the student was hanging out in the dorm room hours after his fall, and while he was acting strangely, physically, he appeared to be okay. Friends said initially he didn't even want to go to the hospital, but finally agreed.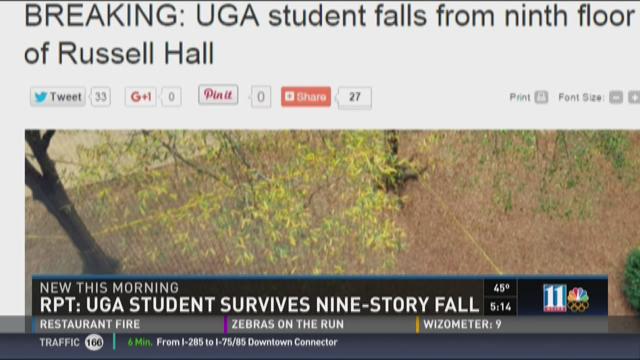 Senior Jay Springfield described the scene where the student fell.
"Whenever they actually found out about it, there was just a shoe on the ground," Springfield said. "His pants were ripped, so he could have been doing anything. Who knows."
The UGA police department said in a statement that they were notified Sunday about a student who "had sought treatment at a local hospital for injuries which are consistent with some type of fall."
It statement reads in part, "It appears that alcohol consumption on the part of the injured party may have played a role in this incident. It should also be noted that this is the second documented incident involving the injured party."
The spot where the student reportedly fell has since been processed and cleared.
Police said there were no witness, and the injured student cannot tell investigators what occurred. So far in the investigation, it's not clear if the student fell out of the window or intentionally jumped.

Photos | University of Georgia mascot: Uga