DA to review case against Athens man accused of 8-year-old crime | News
ATLANTA — Innocent until proven guilty. It's a phrase heard time and time again in the American justice system. Yet an Athens, Ga. man with no criminal history has been in jail for over a month after he was accused in a crime that happened 8 years ago, in a city he says he wasn't in. Now, after a report by 11Alive News, the District Attorney for New Orleans is taking a second look at the case.
It all started in 2008 when elderly New Orleans resident Mary Rush said she was swindled out of $55,000 for home repairs that never happened by a contractor named James Riley. Back then, Rush described him to police as man between 45 and 50 years old. 
He and wife Brandy Poston say he was never in Louisiana in 2008 because he was working at Bubba Gump Shrimp Company in San Francisco, Calif. and living with five roommates at the time. His attorney says he's got the W2 forms and sworn affidavits to prove it.
"We have at least 10 coworkers from Bubba Gump Shrimp – from managers to other servers – that have contacted us to say, 'What can we do to help?,'" Debon said.

PHOTO PROOF? | Riley's wife says these photos prove he was in San Francisco at the time of the alleged crime

Friends and family of James Michael Riley say these photos were taken in San Francisco where he lived at the time of the alleged crime, 2200 miles from New Orleans.  
Riley, who goes by his middle name of Michael, is now being held without bond on a fugitive warrant in the Athens-Clarke County Jail. He spoke with 11Alive's Valerie Hoff on day 30 of his incarceration.
"It's just hard to imagine how this happened," he said. "It's kind of a firsthand account – innocent until proven guilty isn't the reality of the system. The reality of the system is, as soon as you are arrested or accused of something, you're supposed to be guilty."
So how could this have happened?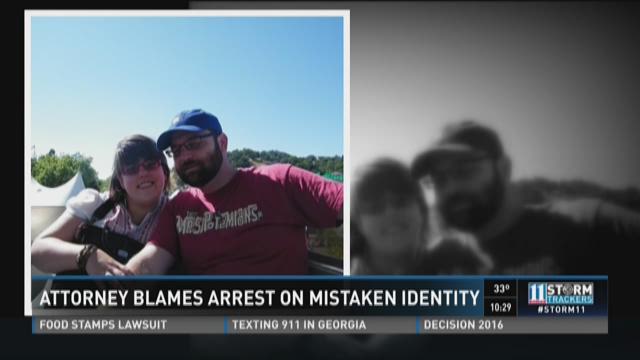 Debon says Riley's father is also named James Riley and owns a house in Alabama, about a six hour drive from New Orleans. That's it.
"We believe this is an unlawful arrest," he said. "There's actually almost very little evidence, if any, other than the commonality of a name. We did a simple search on Google and you can come up with 4000 James Rileys across the United States."
Riley's attorney says New Orleans authorities had been unresponsive until he recently filed a petition asking that his client be released and 11Alive covered the story. Now, the Orleans Parish Assistant District Attorney Sam Crichton is reconsidering. 
In email correspondence between Debon and reporter Valerie Hoff, Debon says Crichton wouldn't answer how prosecutors initially targeted Riley as a suspect. Debon also said he spoke with the alleged victim's siblings, who don't remember Rush ever mentioning anything about a James Riley. They also told Debon they don't believe anyone showed Rush a photo of an alleged suspect, leading them to believe someone put her sister up to the claiming the accusations.
 Meanwhile legal bills are growing, and Riley is growing frustrated.
"There are still going to be people who think I'm guilty no matter what the end result is from this," he said.
Riley so far missed Christmas and New Year's with his wife, Brandy. 
"I'm beyond angry," she said. "I'm heartbroken, I had more faith in our system .This whole system is terrifying."
He told 11Alive News he hopes to be released before his Jan. 29 court date so he could start looking for a restaurant management job in Athens and put this entire ordeal behind him.